Spear Vineyards & Winery is a family owned, sustainable and certified organic vineyard nestled in the heart of the Sta. Rita Hills Appellation. At Spear, our hope is to craft wines that transparently communicate our estate vineyard's voice with the utmost lucidity and sincerity. We invite you to join our soil to glass vineyard tasting experience.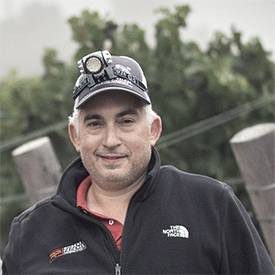 OFER SHEPHER
Vigneron
Ofer Shepher's interest in the local wine community germinated very early on and continued to resonate within him throughout his college and post-college career. Weekend camping trips to the Santa Ynez Valley sparked an unyielding desire to pursue coastal wines. He began his winemaking studies at Davis in 2004, which propelled a move to the historic Gnesa Ranch in 2005. Being surrounded by the Santa Rita Hills was truly inspirational from a viticultural and enological standpoint. From that moment forward, Ofer's sole focus was the Santa Rita Hills appellation. He spent the next seven years patiently searching for what would prove to be the ideal location to plant and build his dream vineyard and winery.
As a child, Ofer would spend summers in Israel working on the kibbutz his mother grew up on. This communal farming background not only afforded Ofer a tremendously diverse skill set, it also set the tone for a collaborative work ethic focused predominantly on agriculture. These formative years continue to influence the stewardship of every aspect at Spear Vineyards, where every stage of the wine growing process is given equal priority. The goal is the beauty of the total system where everything and everyone is supported and appreciated. With these alignments, we hope to adhere to the Spear motto of: "Wine that tastes like where it came from."